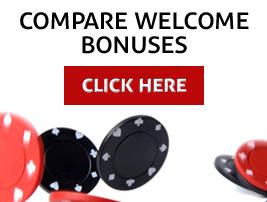 The first piece of information you see when you visit an online casino is their welcome bonus. It is an effective marketing ploy, usually in bold font at the top of their web page to entice you to deposit and play. The thought of having extra playing funds for free is enough to convince most players to sign up on the spot, but should you really opt in to receive a welcome bonus?
There are pros. and cons. for using welcome bonuses, with the obvious benefit being the addition of free bonus funds. They are a great way to boost your bankroll, often at the very least doubling your initial deposit. However, there are considerations you should take into account including the wagering requirements needed to be completed and restrictions on games and bet sizes.
All online casinos have different welcome bonuses with different rules and requirements, so the number one rule before you opt in to receive a welcome bonus is to read the relevant terms and conditions. It can be quite confusing, so to make it easy for you to choose we have listed all the best welcome bonuses including wagering requirements here.
What is a Welcome Bonus?
A welcome bonus usually consists of a percentage added to your first deposit. For instance, a casino may offer a 100% bonus on your first deposit or another may offer 200% and some even more. In essence it is free money that is added to your deposit.
For example, bgo vegas has an excellent welcome bonus: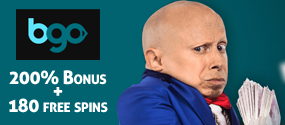 200% up to £200 Free – This means if you deposit £100 you will receive £200 instantly in bonus funds. bgo vegas also have a slot promotion meaning you will also receive 180 FREE spins on selected slots. Better still there is ONLY A 5x deposit and bonus WAGERING REQUIREMENT. You would be unlucky not to win with this bonus!
Register & Play
What are Wagering Requirements
Also called the play through requirement, this is the minimum amount you have to wager before you are allowed to cash out and the bonus funds become "your" funds. This provides the casino with a "protective barrier" to stop people receiving a welcome bonus and then immediately cashing out.
All reputable casinos will provide fair wagering requirements meaning that you have every chance of being able to complete the wagering requirements and cash out. Most offer between 20x and 30x your deposit. For example if a casino states that their wagering requirement is 20x your deposit and you deposit £100, you will need to wager 20 x £100 = £2000 before you can withdraw any bonus funds. This may seem like a lot, but is actually very achievable.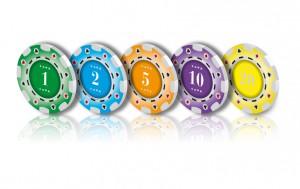 Exclusive Welcome Bonuses
Only available from Value Town. Click here and sign up to our quarterly newsletter! Giving you even more value for your money.
Restrictions on Games and Bet Sizes
Some online casinos do not count all games towards the wagering requirements, again this is a method used to protect them against bonus abuse. Some games also count less towards achieving the wagering requirement and some may restrict your bet size. For example, in most casinos slots count 100% towards the requirement, whereas games with less of a house edge such as blackjack may only count towards 25%.
These are all considerations you must take into account before you accept any bonuses. Please read any relevant terms and conditions so you know the exact wagering requirement, what games you can play and the maximum value bet you can place. Learn more by reading our casino reviews.
Should I take a Welcome Bonus?
It may seem like the odds are stacked against you, but they are not and it all depends on the bonus amount and relevant requirements needed and more importantly a little luck. Value Town is here, to showcase only reputable casinos with fair and attainable bonuses providing you with the best possible start to your casino experience and the rest is up to the casino gods. All it takes is a nice win on a slot machine or your favourite number to hit on roulette. There is no right or wrong way to play as long as you stay within the rules stated in the casinos terms and conditions.
If you want a fast boost to your bankroll and extended play time, then a welcome bonus is worth taking. Please note they are not compulsory and you can choose whether or not you want to receive them upon registering with a casino. They are a way of the casino saying thank you for choosing us, and if you so wish you may take a bonus to enhance your gaming experience.
Please read our Compare Welcome Bonuses page to choose the best welcome bonuses.