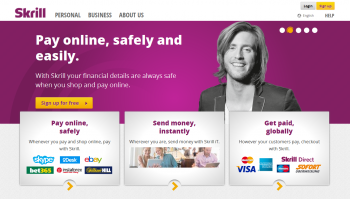 Helping people pay and get paid
Skrill is a free online service which allows you to send and receive money. It is an online wallet, whereby you can add money to it by credit card, debit card or by transfering money from your bank account. It is a world wide service, supporting up to 40 different currencies and you able able to send and receive money from it between 200 countries all over the world.
The number one benefit of using Skrill is that when depositing at an online casino you do not have to give any financial details such as credit or debit card numbers, thus the recipient will not receive any sensitive information. All you need to do is enter the email address and password to which the Skrill account is linked, and you are set to go. Skrill provides a safe exchange of funds.
Skrill can also be used for withdrawals if you have a winning session. The great thing about this is that it then tops up your Skrill balance, which you can either transfer to your bank account, carry out another online transaction, send to another person or even withdraw cash from ATMs with your Skrill Prepaid MasterCard.
Another benefit of using Skrill is the fact that a deposit to an online casino will not show on your bank statement. You first transfer money from your bank to your Skrill account, which will show as a Skrill transfer on your statement. You then transfer your funds from your Skrill account to the online casino.
It is really simple to set up an account and it takes less than 5 minutes. If you are going to use it for depositing at online casinos, simply visit the Skrill website and click on the Sign Up button. You will want to create a personal account, fill in the details and you are ready to start making monetary transactions quickly and securely.