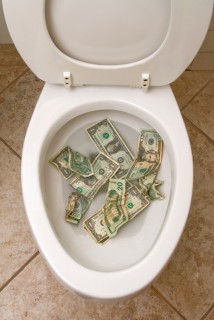 All online casinos have a stretch of time called a "pending period" immediately after you make a withdrawal. During this time frame, if you decide you would like the pending funds transferred back to your playing funds in order to carry on gambling, then most if not all casinos will allow you to reverse your withdrawal. However, more often than not, this can be particularly frustrating for players because generally they will go on to lose all their winnings and most will agree, that it is an option they wish was not there.
Many players see the option to reverse a withdrawal as an "evil ploy" by the casinos, an extra method for the casinos to get their money back. This option presents temptation, and for players with particularly weak self discipline, most will succumb to it.
Lets put the "curse of the reverse" to bed! Flushing is a process whereby the casino prevents the withdrawn funds from being able to be reversed. It is achieved by contacting the casino by email or live chat and asking them to flush your cash out. However, this process seems almost secretive and you will notice that there will be no mention of it anywhere on the online casino websites. This is why it is important to do a little research online in order to find out more of the subtle practices, and we at Value Town are more than happy to provide this information.
So, in short, if you have been lucky enough to have a winning session and you choose to withdraw your funds, your next step should be to immediately contact customer support and ask them to flush your withdrawal. This completely negates the temptation to reverse your withdrawal, as the option no longer exists and you can happily wait knowing you will receive your winnings.
A final note, should there be a button when you make a withdrawal that allows you to automatically flush your winnings? This would make the process much more simple and cut out the extra step of having to contact customer support. It will also bring flushing to the attention of players, who perhaps have never heard of it.