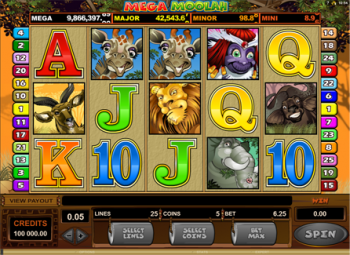 Microgaming casino players may wish to flock to their favourite online casinos this week, after the company's leading progressive jackpot slot breached the £9 million mark. The African savannah themed Mega Moolah video slot now has a jackpot which involves a life changing sum of money, and a big win is long overdue.
Mega Moolah last paid out its major progressive prize over 5 months ago, and the average win occurs once every 3 months. All of the signs point to a huge jackpot being won within a week or two. The last time the video slot paid out the goods, one lucky ex-soldier from the United Kingdom scooped a world record cash prize.
The world record for the biggest ever online slot pay-out was previously €17m, and was held by a Finnish player since 2013, when he won on Net Entertainment's Mega Fortune video slot. However, five months ago, the UK-based player scooped £13.2 million playing Mega Moolah. When you convert the win in Euros, it trumps the Mega Fortune victory. This, of course, means that Mega Moolah is now the best paying progressive jackpot on the net.
The UK player's own record could be beaten if the Mega Moolah slot remains un-won for a number of weeks. In the past 2 months, the slot has seen its progressive jackpot rise by £4 million. Its £9 million prize is currently worth $12.7 million, or €11.3 million at the time of writing. To find out where you can play Mega Moolah read our online casino reviews.
Progressive jackpots seem to be getting larger and larger of late. Nobody quite knows why, although a number of reasons have been put forth. We know that the longer a jackpot remains un-won, the more players play it, and the larger it rises. However, some are speculating that Microgaming may be deliberately altering the frequency at which the jackpot pays out, in order to bolster the prizes at stake. Others are suggesting that the prize is massive simply because more players are getting involved in online gambling.
Either way, the internet's most successful progressive jackpot slot is ready to burst again, so if you want to get a slice of the action, you need to ensure that you play Mega Moolah from this week onwards.