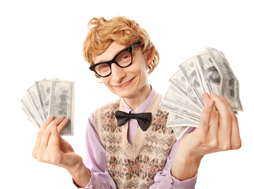 It is important to research an online casino before you join. Whilst most casinos are legitimate providing fun, safe and entertaining experiences, there are also a few roguish outfits that will try and gobble your money. Do not be fooled by a flashy looking website or "too good to be true" welcome bonuses and sign up in the heat of the moment. It's very important not to act carelessly and always read the finer details. Not all that glitters is gold and a fool and his money are soon parted. Do not be that fool and by reading this guide it will hopefully set you on the path to joining the best casinos on the net.
The first thing you should check is that they hold a casino operating licence. Not just any casino can successfully gain a licence as the process involves both complex research and certification. Online casinos are required to hold a licence within the jurisdiction that they are based. Jurisdictions which enforce strict regulation include Alderney, Gibraltar, Malta and the Isle of Man. When browsing an online casino, this information can usually be found in the footer area and if you see any of the jurisdictions mentioned you will be in safe hands.
Find out what software the casino uses to provide its games. Popular software developers include Microgaming, Playtech, Net Entertainment, Cryptologic, Real Time Gaming, Novomatic, Wagerworks and Barcrest to name a few. These developers are quite strict on who gets to use their software, so a casino which is powered by any of these software providers is a good sign. This is also beneficial because knowing what software they use, enables you to find out if the casino has your favourite games, be it a particular online slot or a variation of blackjack.
Top casinos will have 24 hour live support. Before you join, it is a good idea to test their customer service. Open the live chat box and ask the customer service representative some questions, even if you already know the answers. For example, ask what software they use, ask how long it takes to withdraw funds and ask some more technical questions, such as do they flush withdrawals. If the representative replies in broken English or is unable to answer the questions, it is a casino to avoid. All the best casinos invest heavily in customer service because they realise it is a huge part of the gaming experience. At the top casinos you will find, polite and to the point answers to all your questions. A casino renowned for their excellent customer service is 32Red.
It is also a good idea to google the casino. Be vigilant during your search and try to find out other user experiences. Do they pay in a timely manner? Do they stall payments? A casino which we thoroughly recommend and pays withdrawals extremely fast in under 2 hours is Guts Online Casino. A general rule of thumb is to search the casino name with a term such as "problems", "rouge" or "experiences". This will result in genuine reviews and real user events. Authentic and legitimate reviews can be found at our Recommended Online Casinos page.
Finally, use your common sense. It's important to get a general feel of the website. Read all the terms and conditions before you register and play because once you have accepted them you are bound to them, no matter how vague or suspect they maybe. Most casinos are trustworthy, you just have to watch out for the rouge minority.
To quickly recap, make sure they have a licence verifying that it is safe to play, find out what software they use and make sure they have the games you want to play, do a google search to find out other user experiences and read all terms and conditions. Hopefully this guide has provided you with some helpful knowledge into choose a casino. For further reference please read our online casino review guide.
Happy gaming!